Footwear
Before you purchase your pair of Aquila made shoes you need to find the right fit.
Follow our foot measurement and size guide below to find the recommended size for you.
Measuring your foot
Step 1: Measure the length of your foot. Stand on a piece of paper on a flat surface and mark the back of your heel and the top point of your big toe. For the most accurate results, we recommend wearing the socks you will wear with your Aquila shoes.
Step 2: With an accurate ruler or measuring tape, measure the distance between the two points you have marked down. It is best to measure both feet in case they are different sizes.
Step 3: Compare your measurement with our size guide below and find your recommended fit. If your measurement is in between sizes or your feet are different lengths, opt for a larger size. Aquila footwear comes in EU sizing.
* Due to the dynamic nature of fashion footwear, there can be some inconsistencies in shoe fitting. Please see individual product pages to see whether the style you are after runs true to size. This can be found on the product pages under 'Size and Fit'.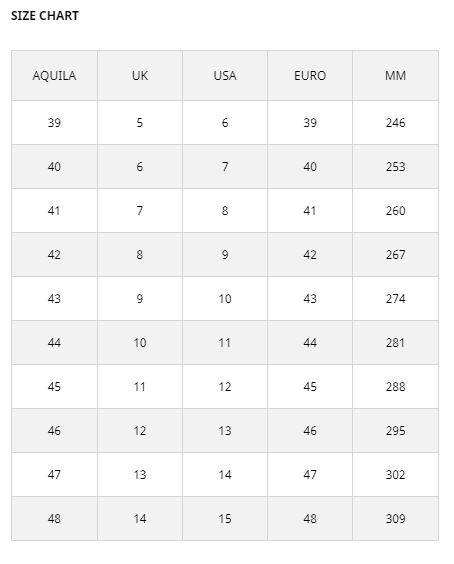 Belts
Use the below guide to find the right fitting belt for you. If you aren't sure, we offer a range of "One Size Fits All (OSFA) belts, that can be cut down to fit all pant sizes. If you are in-between sizes, round up to the nearest inch.